Efficiently Manage Your Jewellery Business
Trinket is a Jewellery ERP Billing Software which can automate your jewellery retail business end-to-end. This software is ideal for jewellery retail stores, and gold and diamond merchants. It provides a reliable POS solution for your showroom.
With Trinket, you can improve your efficiencies by over 60% and get more control and visibility over your inventory.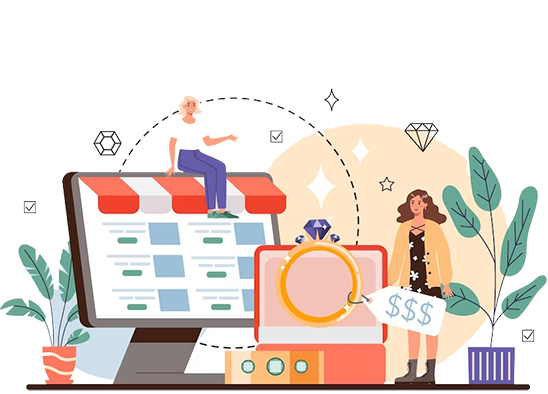 Streamline Your Jewellery Business with Our ERP Billing Software
Our Jewellery retail software can manage orders, chits, inventory, billing and purchases specially made to cater to the needs of a Jewellery store. Integrate with POS system for seamless customer experience. Smart Billing with an intuitive and responsive interface. With Trinket ERP Software, you can improve your efficiencies by over 60% and get more control and visibility over your inventory. Our software will also generate all those vital financial statements you need, including Payables, Receivables, Balance Sheet, and Profit & Losses.
This cloud-hosted, feature-rich jewelry POS system automates every transaction from billing to inventory management and accounting. This is a perfect fit for any jewelry business who look for a software solution for effective management of jewelry business. Trinket takes care of everything from customizable data fields to simplify things when you need to order more stock. You can run multiple stores and warehouses with our software. Easy-to-use user interface and 24/7 support made our software more acceptable.
Manage Your Store, Streamline Your Workflow.
Trinket Features
Complete automation of all operations.
User friendly interface
Online invoicing and payments.
Zero redundancy in managing the store records.
live centralized pricing.
Powerful messaging system.
iOS and Android mobile apps
Information on events & holidays.
Multiple language support.
Enhanced Security with GDPR complaint.
Activity tracking.
Data analysis and reports.
Multiple roles and access levels.
Cloud-hosted with very minimal downtime.
Supports unlimited users
Premium 24/7 support
Affordable pricing.
Third-party API integration.
Simplifying School Management with Smart Solutions
Main Modules
This module helps you to manage customer relations and increase customer satisfaction.
This module provides insights into the performance and profitability of your jewellery business.
This module helps you to effectively manage your inventory by tracking stock levels and tracking inventory costs.
This module allows you to efficiently track orders, manage customer information and provide timely delivery of orders
This module manages the billing process from generating customer invoices to payments and reconciliation.
This module helps you to protect your business from cyber threats and ensure compliance with industry regulations.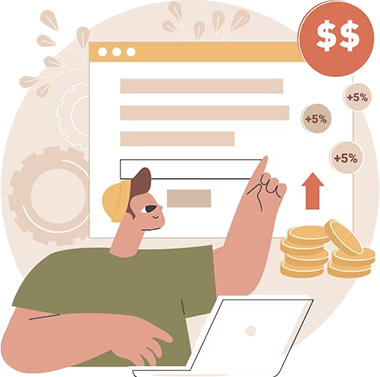 How can you benefit from us
Trinket Jewellery ERP and Billing Software help to streamline the entire sales and billing process, from the point of sale to the invoicing and accounts payable. This reduces the amount of human error and makes the process more efficient.
With our software, you can have access to real–time data regarding your inventory, customers, and sales. This helps you to have better control over your business and make informed decisions. Trinket helps to improve customer relationship management by providing detailed customer profiles, tracking customer history, and offering discounts or promotions to loyal customers.
Trinket software helps to improve inventory management by providing an automated system to track and monitor inventory levels, as well as providing alerts when stock levels are low.